Solid State Frequency Converter
Frequency Converters · Motor Generators · Solid State
60 to 50 Hz · 50 to 60 Hz · 60 to 60 Hz Isolation · 50/60 to 400 Hz
For all your facility's power needs, you can rely on Visicomm Industries, a world leader in frequency converter manufacturing. Our solid-state frequency converters are of the highest quality in terms of both construction and safety and come in various dimensions, weights, inputs, and outputs, so you can choose the unit that best suits your specific application. To learn more about our static frequency convertors, read below for details regarding their construction and specifications.
SOLID STATE FREQUENCY CONVERTER CONSTRUCTION
1 to 12 KVA
Solid state transistorized compact enclosure less than 60DbA at 3ft. – any single phase input, any single phase output – any input frequency, and 50Hz, 60Hz, or 400Hz output. All of our products are available for purchase, monthly rental, or lease to purchase. Our frequency converters are 60hz to 50hz output, switchable. 400Hz output is also available (see below).
All solid-state frequency converter units can be furnished with an optional battery backup in a separate plug-in enclosure at additional cost.
Perhaps the best way to illustrate the functional versatility of our units is to start with a rearview photo showing the typical controls and connection terminals. Scan down to read the input and output information for our static frequency converters.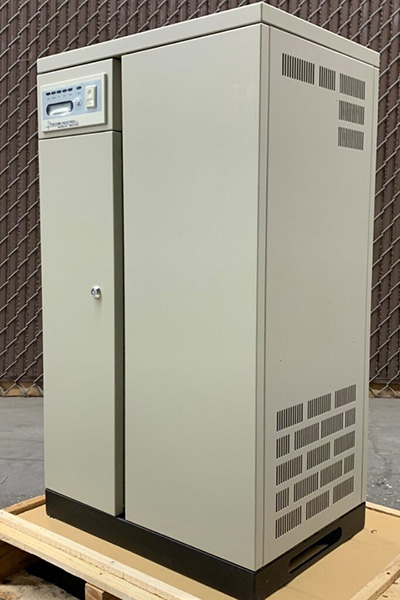 Want to learn more about our Products?
If you need assistance choosing a one- or three-phase solid state frequency converter for your industrial or military facility, contact the experts at Visicomm Industries. Whether you want to request a quote, learn more about our products or services, or get professional advice about your application's ideal design and size, reach out. One of our experienced team members will guide you through what you need to know.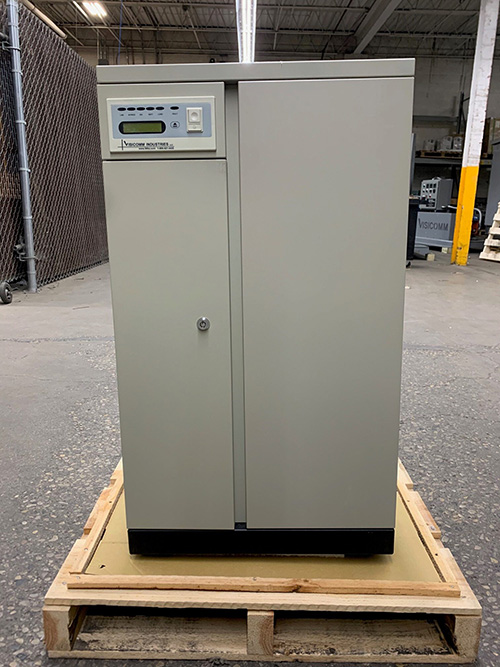 Specifications
Solid State – 1KVA to 12KVA (1 Phase)
We are here to help, contact our team
866-984-6685 or sales@50hz.com